The Bird has been left completely speechless
Well, it seems that the judges at the Ecosystem contest have reviewed our entry in light of the very danger such an award played upon the person of yours truly. Instead of an award of a ghastly mouse-killing slithering reptile, we have been upgraded to the next prize level. We have been informed that we are now to receive a flappy bird. Bird Brain is so assured that such will be a female and hopefully of the Parrot or Cockatoo variety that he is preening and sprucing up while we await the delivery truck.
While I do have your attention, I was hopeful some of you might not mind hanging a few of our lost dog posters in unobtrusive places around your blogs?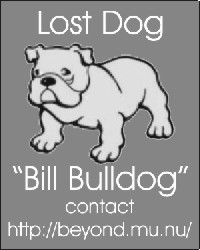 Posted by Mr Mouse at April 15, 2004 01:27 PM